Fort Batenstein
Situated on the high hill behind Butre village in the Western Region of Ghana , the view of the Atlantic coastline from the bastions of Fort Batenstein is quite sensational.

---
Advertisement
The village and Fort is located in a sheltered bay amidst the forests of Ahantaland, east of Cape Three Points.

Like Dixcove and Fredericksburg, it was among the early historic settlements generated by the 17th century inter-European and inter-African conflicts, partly because it lay close to the gold-rich hinterland.

As early as 1598, the Dutch West Indian Company established a trade post at Butre.
As a counterpoise, the Dutch financed Swedish Africa Company led by Heinrich Caerlof set up a lodge at Butre in 1650-52. In retaliation, the W.I.C. instigated the Ankasa people to attack and expel the Swedish Company. -

Read Also History of Butre
---
See more pictures below;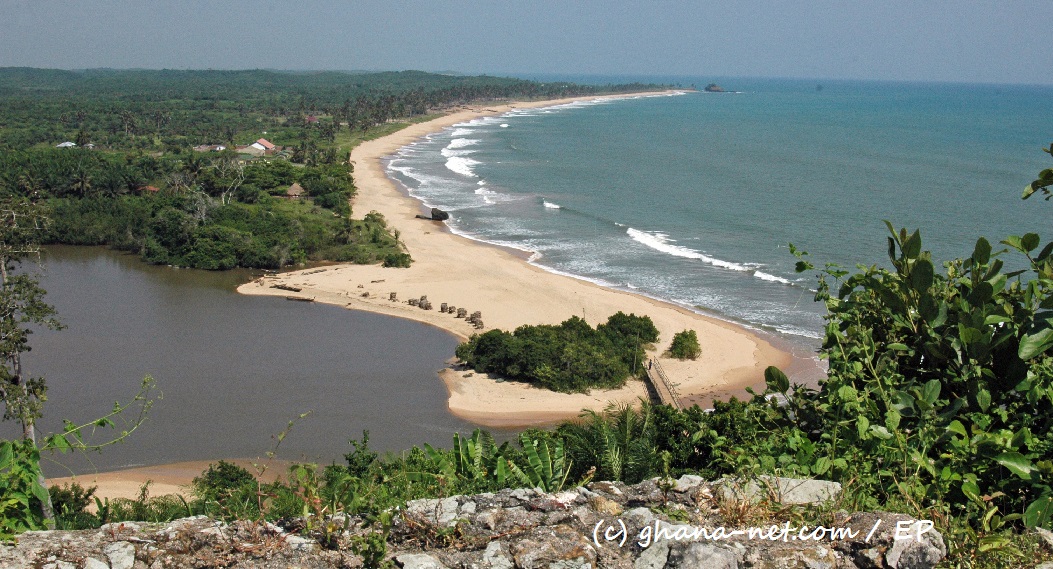 The view of the Atlantic coastline from the bastions of Fort Batenstein, view to Butre River and White Sands, and beach resort.
Fort Batenstein`s commanding location on top of the steep hill gave it a semblance of impregnability fortification, that tended to put off would-be invaders. The fort was used as an trading post, and to control the area around Butre rather as an Slave Trading castle. The fort was ceded with the entire Dutch Gold Coast to Britain in 1872.
All pictures where shoot, before the Fort Batenstein was refurbished for better conversation. New photos will be uploaded at the end of 2015. Please note, that al pictures are strictly (c) by ghana-net.com and EventPicture UK
If you would like to use any of our images, or any other of our Ghana image - photo stock,
Please contact us for permission - first
!
The first trade post, at Butre, was established inb1598, by the Dutch West Indian Company.
---
---
Advertisement